USEFUL GUIDES
EXAMPLES OF APPROVED EUROPEAN PROJECTS
EXAMPLES OF APPROVED EUROPEAN PROJECTS
 In this guide, I try to give some advice about successful projects and their characteristics, including database links. 
The analysis of European projects that have already been approved is essential for the presentation of a winning European project, as we have already seen here. 
In fact, the perception of the idea or project's innovativeness can't be grasped without a deep analysis into other state-of-the-art projects. This allows us both to identify similar projects that have already been completed (and therefore means that we will not submit a duplicate project), as well as to find proposals that could be integrated with our solution to make it truly successful. 
After this phase, we can more clearly highlight the USPs (Unique Selling Points) and the Value Proposition of our solution, and we can understand the type of projects that have already been funded to identify the successful topics. Furthermore, we can find the winning points of a project to be used in your proposal. 
Where can I find already-approved European projects? 
You can find projects that have already been approved in the respective programme database: 
Why is it useful to consult already-approved European projects?
From the databases of approved projects listed above, it is possible to obtain useful information for project implementation:
Understanding if the project idea is innovative compared to what has been done before.
Using similar approved projects as a starting point, making them complementary to your project idea.
Identifying partnerships already active in the sectors to cooperate with for the realization of your project. These partnerships are very valuable as they can bring significant results to the project.
These databases contain information on participating organizations, countries involved, starting and ending year of the project, amount of funding obtained, objectives, results, and activities. Very often project reports are also available where you can go deeper into what has been achieved.
What are the characteristics of successful European projects?
Looking at some approved European projects, we see that there are common characteristics to consider:
Pursuit of clear European objectives: These objectives should be in line with EU priorities and the Europe 2020 strategy. The projects therefore not only have specific objectives, but also general objectives in line with European policies and with what is highlighted in the published call.
Innovation: The project stands out for its innovation in relation to the product, process or service offered. Of course, innovation can concern different sectors (also depending on the reference programme), but in principle we can say that a winning project solves a need or a problem in a new and innovative way compared to the methods used previously.
Measurability: The specific objectives of the project must have clear, quantifiable, and measurable results. Furthermore, any previous analysis concerning the needs to be solved must also be based on the research, collection, and analysis of quantifiable and measurable data.
Partnership with clear European added value: The partnership involved must be appropriately balanced, possibly representing the different geographic areas of the EU, or giving a reason for the choice made. Generally, heterogeneity of the type of organizations involved must also be considered in the constitution of the partnership (with SMEs, research centres, associations representing civil society, etc.), which is based on their respective functions in the project.
How are goals defined?
For the strategic definition of objectives, the S.M.A.R.T. method is often used, which is an MBO (Management by Objectives) business management method. 
With this method, specific objectives are defined and then the activities necessary to achieve them are indicated accordingly. To determine if the objectives are valid, five S.M.A.R.T. criteria have been defined: 
S = Specific
M = Measurable
A = Achievable
R = Relevant
T = Time-Based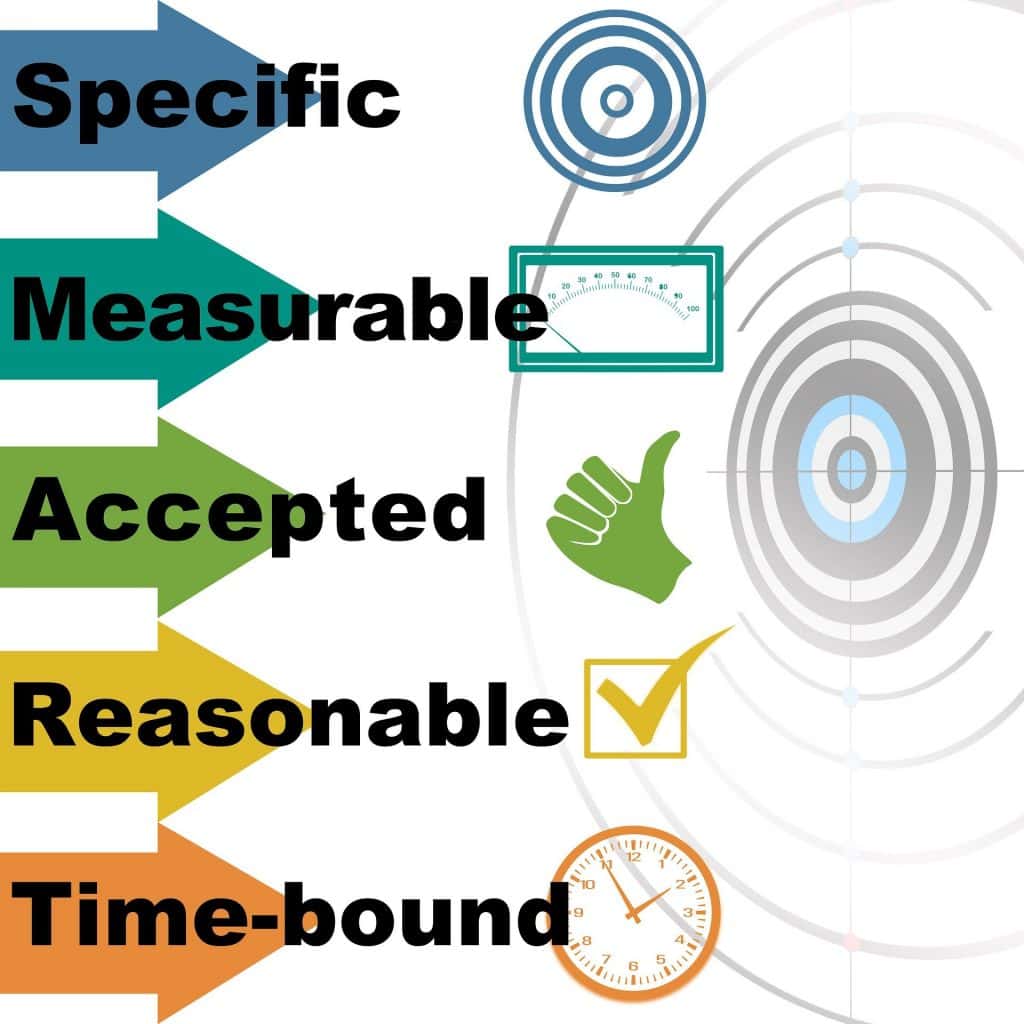 Successful projects have specific objectives that meet the following requirements:
SPECIFIC: The objectives are defined and tangible, and they clearly express what, how and why they will be achieved.
MEASURABLE: The objectives are expressed numerically (e.g. as a percentage, or with incremental or decremental numerical data).
ACHIEVABLE: The objectives must be realistic and commensurate with the resources and capacities available.
RELEVANT: The objectives must be in line with the costs/benefits of the project.
TIME BASED: The objectives always have specific deadlines during which their achievement is clearly verified.
How do I search through the databases?
 Searching for information in the different databases is quite similar, and can be achieved by: 
Sector of application or themes: This search is useful to see the projects funded in a specific sector or theme. For example, health, industrial technologies, climate change and environment, digital economy, energy, society, transport, or space (on CORDIS), or topics related to air, water, biodiversity, or waste (on the LIFE platform).
Search by project name: This search can be activated if we want to have more information on a funded project that we have previously identified.
Keywords: This is one of the fastest and most useful searches, as it allows the search for approved European projects by keywords.
Partners: This search is useful if we would like to have an overview of the projects in which a specific partner has participated. Moreover, in the proposal references to previous approved projects should be included. This is also useful to monitor any role played by partners and their possible involvement in the proposal.
Free text: In the databases, there is a free text space where it is possible to perform a search by crossing the different matches available.  
These considerations can be useful not only during the preliminary analysis of the project idea and during the drafting of the proposal, but also during the implementation of the project.
The creation of synergies with similar projects is positively valued by the European Commission, but also by other funding bodies.
The establishment of networking among partnerships that have already been established can be a strong point in the project evaluation as well as for the achievement of specific objectives and dissemination of results.
Do you want to delve deeper the theme of approved European projects?